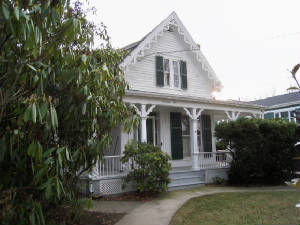 Capt John W. Miner House, c. 1867
Captain Miner sailed packet ships, a major form of coastal transportation. Typical of the Gothic style, the house has a steeply pitched roof with elaborate scrollwork bargeboards on the eaves.
Another example is the Seabury Memorial Church, 1875, named in honor of Groton-born Rev. Samuel Seabury, first American to be consecrated as a protestant Episcopal bishop. Today it is an Islamic center. (No photo).